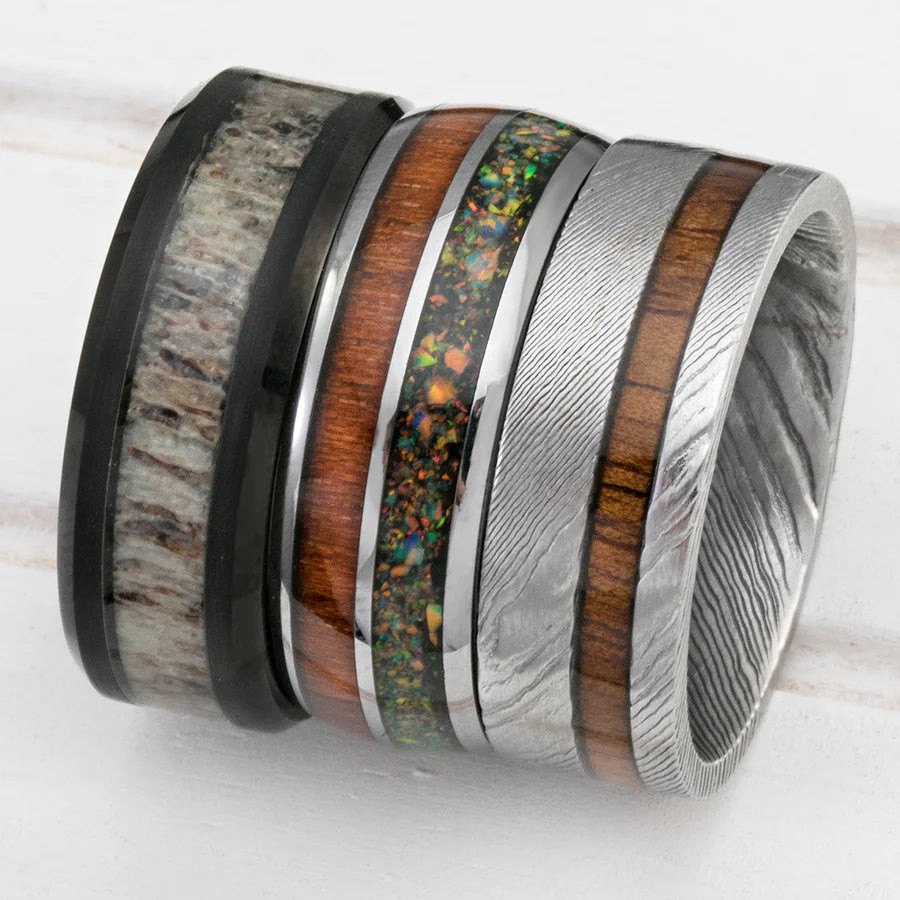 Wearing Different Metal Rings Together: A simple guide
Many of our customers want to wear several different rings at the same time, so we are often asked for advice on how to mix and match different metals and designs. Everyone has their own style and taste, but here's our advice on wearing different metal rings together.
Can you wear different metal rings together
?
The short answer is 'yes', you can wear different metal rings together. Our ring designs are elegant and varied, often combining different metals with complementing inlay materials within one band, and our single metal designs are available in different metals, including gold, silver, titanium, platinum stainless steel and tungsten. 
Mixed metal rings can be worn with other mixed metals, or can complement a ring made of a single type of metal. The overall look will be more cohesive and 'put together' if there is a visual link between the different rings. For example, wearing three narrow rings of the same design stacked together, such as one in yellow gold, one in rose gold and one in white gold. 
Do wedding and engagement rings have to be the same metal?
Wedding and engagement rings don't have to be the same metal but there is a view that as a wedding ring and engagement ring are considered a 'pair' it's pleasing to have design links between the two. 
If both rings are going to be worn constantly, it's also a good idea to choose metals that have the same 'hardness' as a harder metal ring may cause some scratching to a softer metal ring over time. 
Silver and yellow gold have the same hardness, white gold is slightly harder than silver and yellow gold, and moving up the scale it's platinum next, then titanium, with tungsten rings at the top. So if you're asking, 'does my wedding ring need to be the same metal as my engagement ring?' then the answer is no, but it's advisable to choose two metals with comparable hardness. 
Does an engagement ring have to match a wedding ring? 
While engagement rings and wedding rings can be different metals, providing they're of a similar hardness, the rings should look good together. A simple option for women is to have a single colour/metal wedding band, then a decorative engagement ring in a matching metal, with the addition of a solitaire, gems or inlays. Men usually wear a single wedding band, so could match their ring to their partner's.  
Tips for wearing different metal rings on the same hand 
As mentioned above, it's a good idea to wear rings of the same hardness together, whether on the same finger or the same hand. Wide rings can be teamed with narrow rings – perhaps a couple of narrow bands on one finger and a wider 'wow factor' band on the next finger. So do rings on both hands need to be the same metal? Well no, not really; why not have one hand gold and one hand silver or titanium to create a striking contrast statement … As long as the rings you want to wear together fit comfortably, the choice is yours!