Article: What ring width should I get?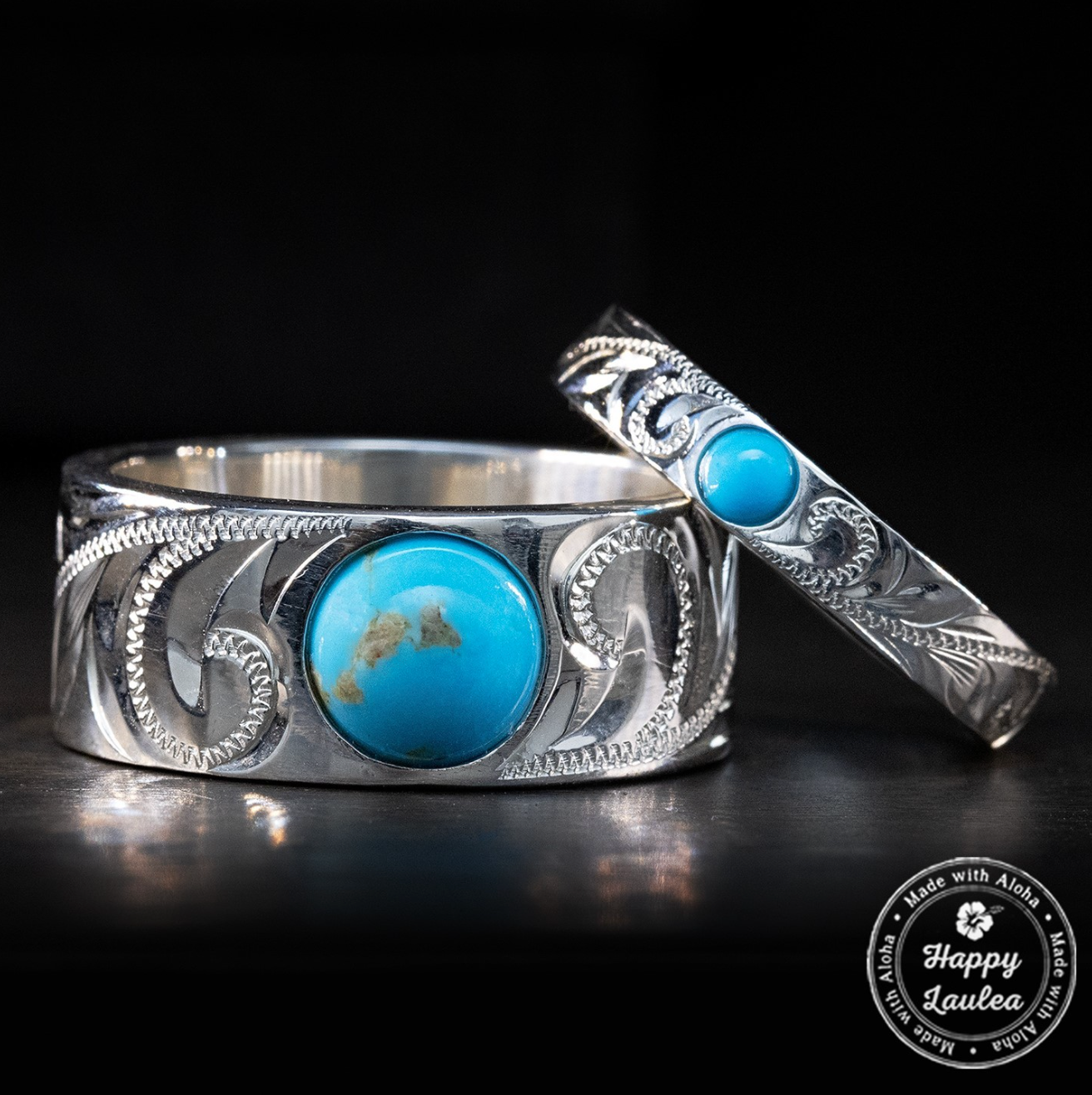 What ring width should I get?
How to decide on which ring width is the best choice for you
What is ring width?
There are lots of things to consider when choosing a ring – it's not just about the metal or the colour or the inlaid materials. Size and width are vital too. We've already given you our guide to ring sizing, now we're looking at ring width. 
First of all, let's define ring width. It's the measurement of the width of the band itself. Not the thickness, and not the diameter. It's a small measurement – generally between 2mm and 10mm, but getting it right is important, both for comfort and looks. 
The Cabochon Kingman Turquoise & Bluebird Turquoise rings shown in 10mm & 4mm widths⁠
What is the normal width of a ring?
What width ring should you get? Well… we usually say that a popular ring width is between 2mm and 4mm – but this can vary between men and women. It also matters whether the ring is to be worn all the time, paired with an engagement or wedding band, or is a special occasion or statement ring that won't be worn all the time. Also, larger fingers can carry off larger rings, whilst slim, shorter fingers may find slim rings more comfortable.                  
Wide vs thin rings – the pros and cons
A wide ring is a style statement, will attract attention, and look striking. A wide ring, perhaps measuring 6mm, 8mm or 10mm wide will be noticeable and if it's destined to be worn constantly, will need to feel comfortable. 
A thin ring can be regarded as understated but can still look elegant and striking. A thinner ring, 3mm – 4mm, can be worn comfortably with a matching engagement or wedding ring of similar width.
An 8mm titanium sand blast ring with Hawaiian Koa Wood inlay
Popular ring widths for men
The perfect ring width for a man is proportionate to the size of the hand and the length of the fingers. That sounds rather obvious, but someone with longer fingers can carry off a wider ring. Take a look at the pictures on our ring width guide page to get some ideas. 6mm and 8mm widths are good choices for a wedding band, and an 8mm width will look extra special.
An 8mm ring on a man's hand
Popular ring widths for women
Ring widths for women tend to be in the 3mm to 6mm range, and once again the choice is influenced by whether the ring will be worn on its own or with another band. Comfort is essential and it depends on the length of the finger as well as whether the ring or rings will be worn all the time. A slim wedding band, perhaps 3mm or 4mm wide can be comfortably paired with a matching engagement or occasion ring. 
An 3mm ring on a woman's hand
How do I choose a ring width?
So what ring width should you get? Our advice is that the width of a ring has to be considered at the same time as the style and material of the ring, as all of these features are closely related. Ring width is a personal preference and ultimately comes down to comfort and practicality. When in doubt, we recommend trying on a few different ring widths to see which width looks and feels most natural on your finger. 
Still have questions about ring width? Visit our
guide to ring width
page to find out more.