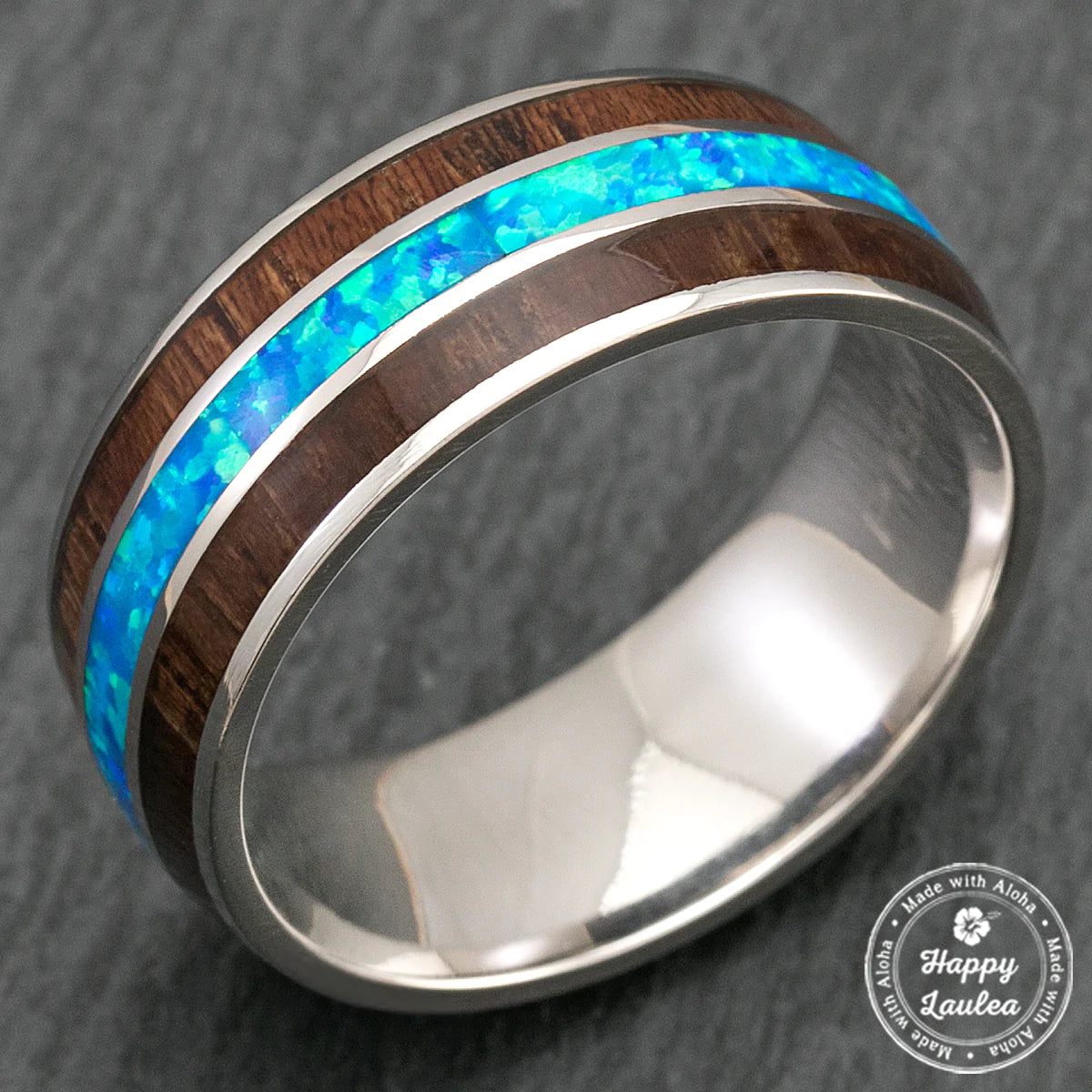 Men's opal rings: Our top picks
If you're reading this there's a good chance you're considering buying an opal ring. You may also be wondering, are opals a good choice for men's rings? The answer, in our opinion, is always yes!
One of the most appealing aspects of opal inlay rings, aside from the natural beauty of the opal itself, is the diversity of metals available. From robust and lightweight titanium to luxurious white gold, there's a ring to suit every budget. Similarly, our range of unique inlay options means you're bound to find an opal ring to match your style. 
To help guide you on your ring-buying journey, we've compiled some of our best-selling men's opal rings for you below.
1) The Aina - a HI-TECH black ceramic ring with green opal & Hawaiian Koa wood inlay

​​Meaning "The Land", The Aina ring is perfect for anyone who loves the natural beauty of Hawaii. With a stunning green opal in the center, this ring is eye-catching and unique. The Koa wood used in the inlay is sourced from the Hawaiian islands, making this ring extra special. Whether you're on vacation or live near Hawaii, wear The Aina and feel like you are a part of the beautiful landscape year-round.
2) Gun-grey tungsten carbide ring with a guitar string, blue opal, & Hawaiian Koa wood inlay
The design of this ring is inspired by the unique shape of a guitar string. It's a wooden barrel shape with a guitar string, blue opal, & Hawaiian Koa wood inlay. The wood on the ring gives a noble, natural and woody feeling while the blue opal provides a striking pop of colour. This unique guitar string ring is perfect for any occasion and the ideal ring choice for music lovers! 
3) Black tungsten ring with midnight fire opal & Hawaiian Koa wood duo inlay
Dark and mysterious in nature, this black tungsten ring features a fire opal and Hawaiian Koa wood duo inlay. Made from one of the strongest metals in the jewelry industry, tungsten carbide, this ring is cobalt-free and hypoallergenic which makes it perfect for people with metal allergies. Click here to see it. 
4) Tungsten carbide ring with blue opal & Hawaiian Koa wood tri-inlay 
Featuring a Hawaiian Koa wood and blue opal tri inlay, this tungsten carbide inlay ring is perfect for occasions such as weddings or anniversaries. Tungsten carbide symbolizes a new promise to your partner while blue opal represents hope, innocence, and purity.
5) 14K platinum ring with Hawaiian Koa wood & blue opal tri-inlay
Platinum is an extremely durable, rare and valuable metal. It's rarer than gold, does not corrode and is unaffected by everyday chemicals. To own just one piece of platinum jewelry is to possess an extraordinary treasure, which makes this ring incredibly special and perfect for weddings or engagements. Finished with authentic Hawaiian Koa wood and a stunning blue opal inlay, and also available in white gold, this ring is made to order and will take about one month to complete. Click here to discover more.
Our rings are handmade locally and shipped directly from Honolulu, Hawaii. To see more, please visit our opal rings collection page or feel free to contact us if you have any questions.