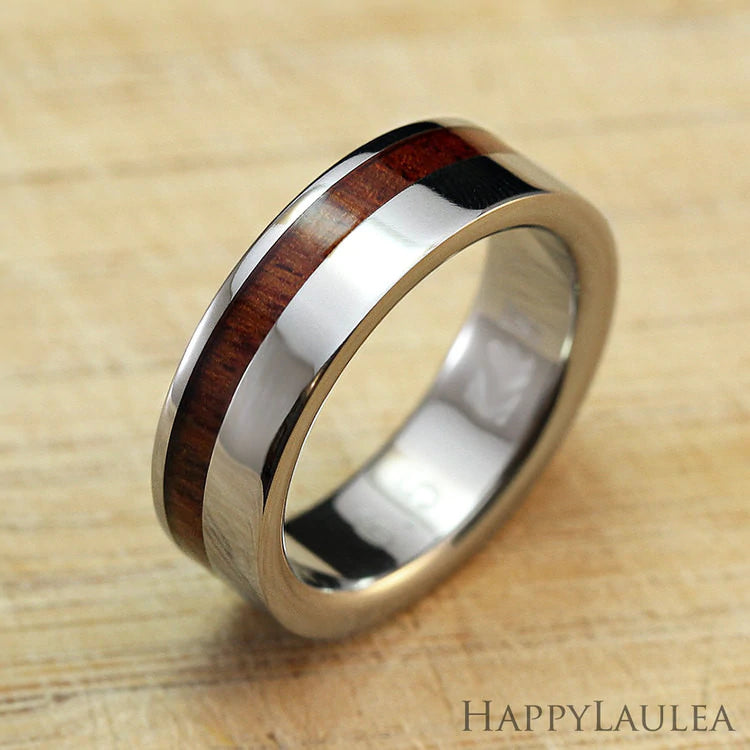 How to clean your titanium ring
Expert tips for caring for titanium rings, whether old or new.
Titanium is one of the most hardwearing and durable metals that jewelry, especially rings, can be made from. 
However, just because titanium is a tough material doesn't mean it won't get scratched or damaged over time, and consequently, titanium rings will need looking after with some regular cleaning.
At HappyLaulea, we want you to get the very best out of your titanium ring, so we've provided the full lowdown on how to help keep your ring looking its best for longer.
How to clean a titanium ring: General cleaning advice
Cleaning your titanium ring doesn't take a lot of effort or preparation. It is a simple process that shouldn't take too long:
Grab a bowl of lukewarm water and put a small amount of mild dish soap in it - about half a cup. 

Add your titanium ring to the bowl and soak for about 5 minutes. Get a clean cloth and gently remove any dirt by rubbing the cloth over the ring. 

Rinse the ring with warm water and dry with a clean towel. We do not recommend leaving to air dry as this can cause spotting. 

 
Using Ammonia to clean your titanium ring
Ammonia is common in many household cleaners and is a great way of effectively cleaning titanium. Here's how to do it:
In a bowl, add a solution that is made up of half ammonia and half water.

Put the ring in to soak for around five minutes.

Remove the ring, rinse and rub dry with a clean towel. 
Cleaning colored (adonized) titanium rings
Colored titanium has had a special process added to give it a different color to standard titanium. With colored titanium, you have to be more careful with cleaning as harsh chemicals can wear away the adonized coating. 
The best way to clean an adonized ring is to use a mixture of the general and ammonia tips above. Use warm water and dish soap first, then rinse with warm water before soaking in ammonia, and finally carefully dry the ring with a clean towel.  
Cleaning titanium inlay rings 
Some inlay rings require a slightly different cleaning treatment than pure titanium rings, due to the materials contained within them. 
The good news is that our stunning Koa wood inlay rings are extremely easy to take care of and clean due to a hardwearing protective coating, so they don't need the same level of soaking or cleaning that standard titanium rings need. 
When cleaning your inlay ring, we recommend using a jewelry cleaning solution and then polishing the ring with a cloth. The Koa wood will stay shiny underneath the coating so you will not need to polish it. 
A titanium ring with Koa wood inlay
Keeping your titanium ring clean and shiny will mean that it lasts longer. Titanium rings are strong, but without care and attention, they can get scratched and damaged. Over time, this damage can get worse, or your titanium ring could start to smell like mildew or mould. 
Looking after your titanium ring can mean it will last longer, look better and stay as durable as ever. 
Shop our range of titanium rings and find your perfect titanium ring today.