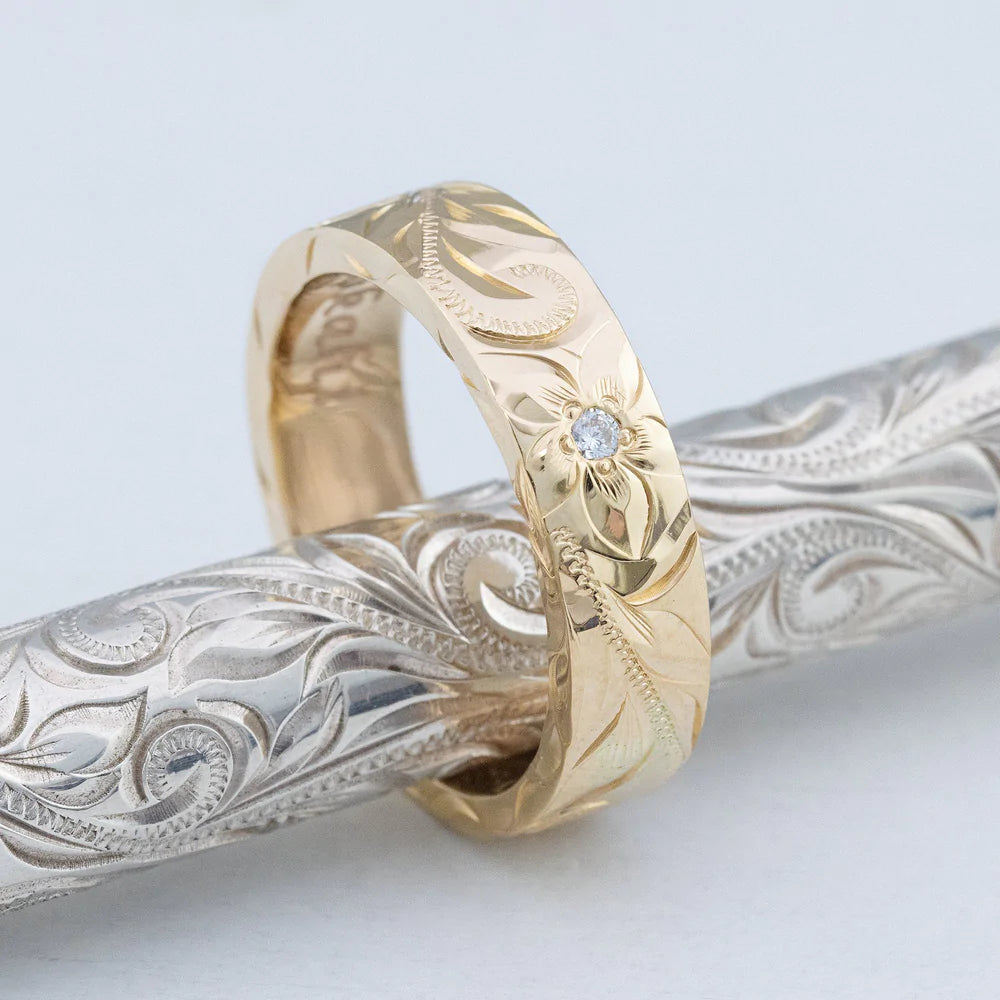 The History of Hawaiian heirloom jewelry
What is Hawaiian heirloom Jewelry, where does it come from, and what makes it so special?
Hawaiian heirloom jewelry is instantly recognizable, with delicately scrolled and intricately engraved details. These beautiful rings, bracelets and pendants have a fascinating history that can be traced back to Victorian times.
A brief history of Hawaiian heirloom jewelry
History tells us that Queen Kapi'olani and Princess Lili'uokalani were present at Queen Victoria's Golden Jubilee in 1887, where it's said that Princess Lili'uokalani was given what became known as the first Hawaiian bracelet. That bracelet was a symbol of a valued, long-lasting friendship between our two nations. The Princess, later Queen Lili'uokalani, abdicated in 1893, and the style of bracelet became popular as a sign of love and support for Hawaii.

Since then, the influence of Victorian design can be seen through the years, with the pieces becoming known as Hawaiian heirloom jewelry, bought as gifts to be treasured, with personalised, meaningful engravings and exquisite details. This jewelry is kept within families and is considered to be a precious part of a family's inheritance. Heirloom jewelry is a traditional sign of Hawaiian culture, and pieces are passed down through the generations and given as gifts for important celebratory occasions.
Types of Hawaiian heirloom jewelry
There are two main styles of Hawaiian heirloom jewelry; engraved, where the letters are carved into the band or pendant, and raised, where the letters stand up above the band or pendant and the background is recessed. The latter style became more popular and more widely used when new cutting techniques, using motorised equipment, became available. Scalloped or wavy edges on both edges of the bands are another distinctive design feature of Hawaiian heirloom jewelry.
At HappyLaulea all our jewelry is fashioned by experienced craftspeople and jewelry makers here in Hawaii and we have delighted customers all over the world - who continue to purchase our designs for themselves, their children and their family members.
Hawaiian Heirloom Bracelet 

The decorative details incorporated into each piece of Hawaiian heirloom jewelry include lettering in the old-English style of flowing script, as well as leaves, ferns and flowers. The flowers, naturally, are Hawaiian hibiscus and plumeria, which are seen everywhere on the island. The script can simply be a person's name or a meaningful phrase. The historic and traditional designs are flowing and can repeat endlessly around a ring or bracelet.

Colour is added to Hawaiian heirloom jewelry through the use of enamel, which was also very popular in Victorian times. Nowadays, our heirloom pieces are individually designed to incorporate enamelled details, precious and semi-precious stones, different metals and uniquely, Koa wood inlays. Historically, most of the original Victorian-style pieces of Hawaiian heirloom jewelry were made in yellow gold. Today's designs translate beautifully into sterling silver, 14 and 24 carat white and rose gold, and beautiful platinum.

We also bring a sense of history and individuality to our contemporary designs that can include titanium, tungsten carbide, and Koa wood. Koa wood is native to Hawaii and is widely used and appreciated for its individual grain patterns and rich colours. It's highly regarded by furniture makers and musical instrument makers as well as jewellers, thanks to its rich colours and stability.

Shop our range of Hawaiian heirloom jewelry and find your perfect piece today.