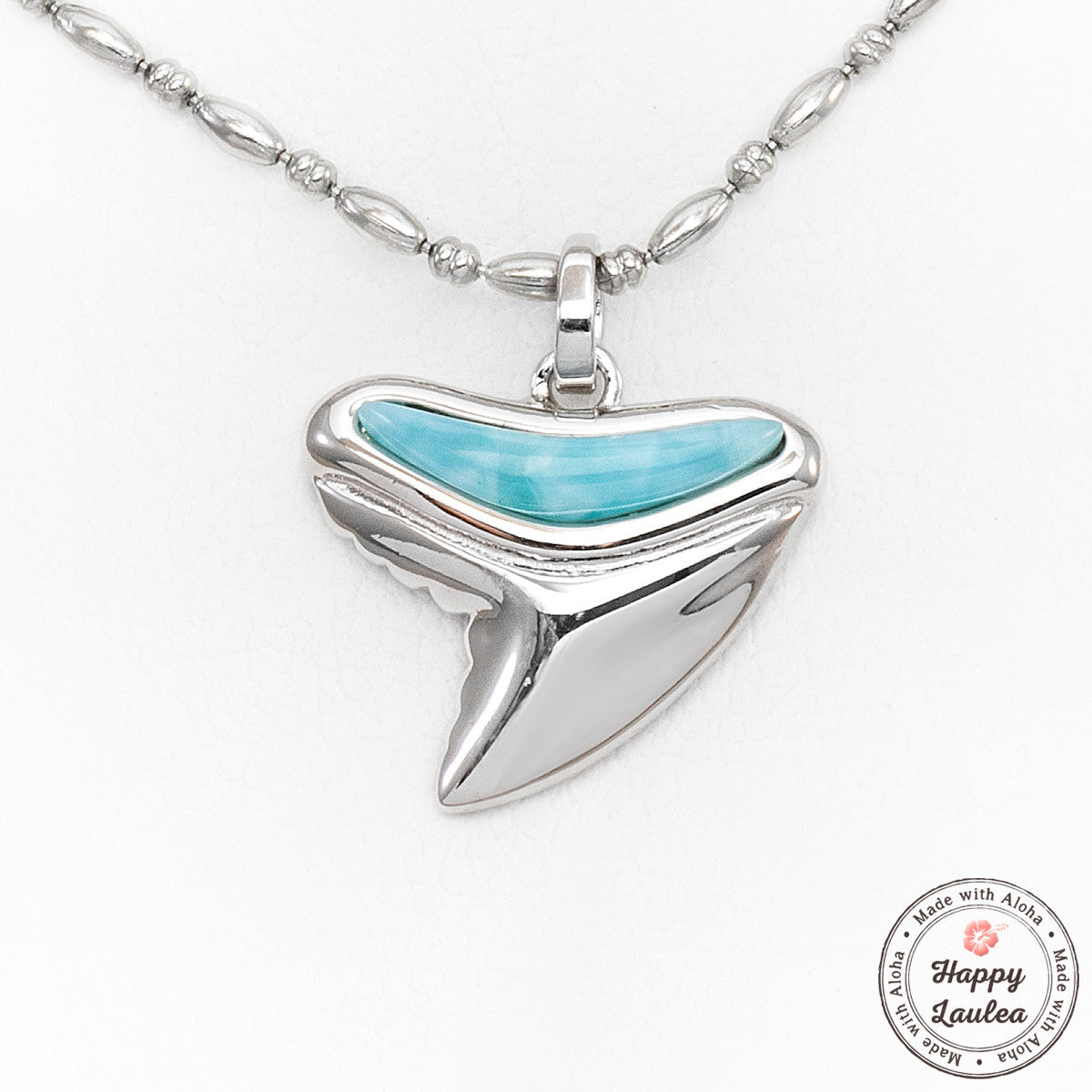 925 Sterling Silver Petite Shark Tooth Pendant with Larimar Stone Setting
SKU: HJR0091
Sale price
$55.00
Regular price
(/)
Pendant Specification
Material: 925 Sterling Silver
Motif: Petite Shark Tooth
Size: (H) 17mm x (W) 17mm 

With Bail: (H) 21mm x (W) 17mm 

Stone: Larimar 

Product Description
The beautiful stone that is paired with the pendant is known as the Larimar. Larimar is a rare, recently discovered, crystal found only in the Dominican Republic and it is said to promote tranquillity and a strong sense of inner peace and serenity. It is useful in time of pressure and stressful change as its cooling and calming energy is said to help soothe frazzled nerves and reduce stress. One of the few crystals to balance the polarities of these energies, Larimar cools tempers and calms fears, relieves stress and nurtures the physical and emotional bodies. It is powerful in meditation and in connecting to the Divine Feminine, and is particularly helpful in releasing emotional bonds, patterns or principles that no longer serve the highest good. A stone of clear communication, it provides the strength and courage needed to speak openly from the heart.
Sharks or in Hawaiian 'Mano' are symbolic of an aggressive lust for life. When observed in their natural element, they are constantly in motion, even while they sleep. Shark teeth have long been known for their symbolic meaning of bravery, strength, power, and protection. The ancient Hawaiians wore shark tooth necklaces to ward off danger and protect them while out in the sea. For many persons, this represents their views of living life. In many indigenous cultures, sharks are seen as the spiritual bridge between the land and the sea. Persons with a shark persona live every day to the fullest and go 'full speed ahead' when it comes to achieving their goals.
Your item will be shipped directly from Honolulu, Hawaii.
Choose options
Gift of Aloha
Receive a free silicone ring with your a ring purchase!
* Offer while supplies last. Silicone ring is offered for only rings purchases.