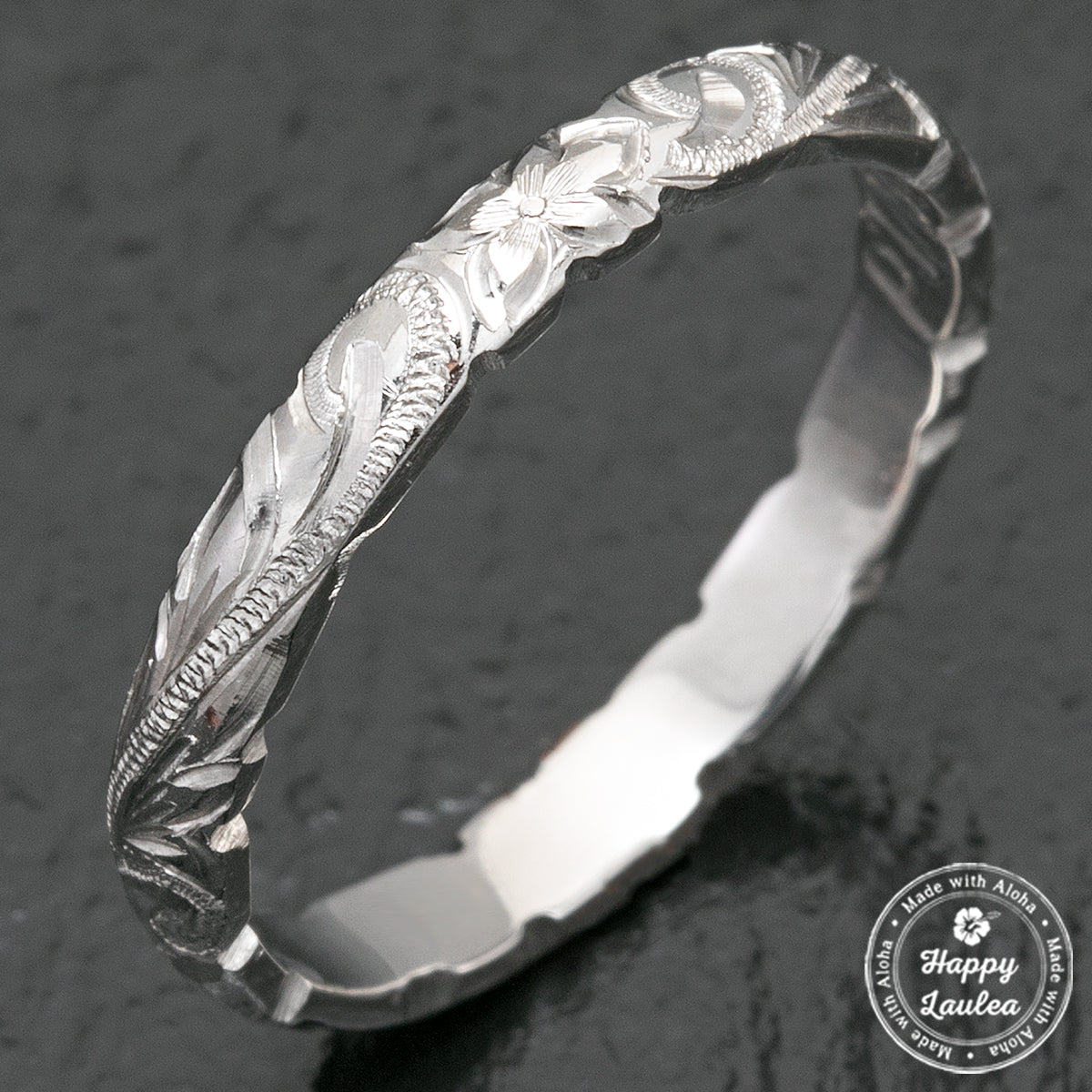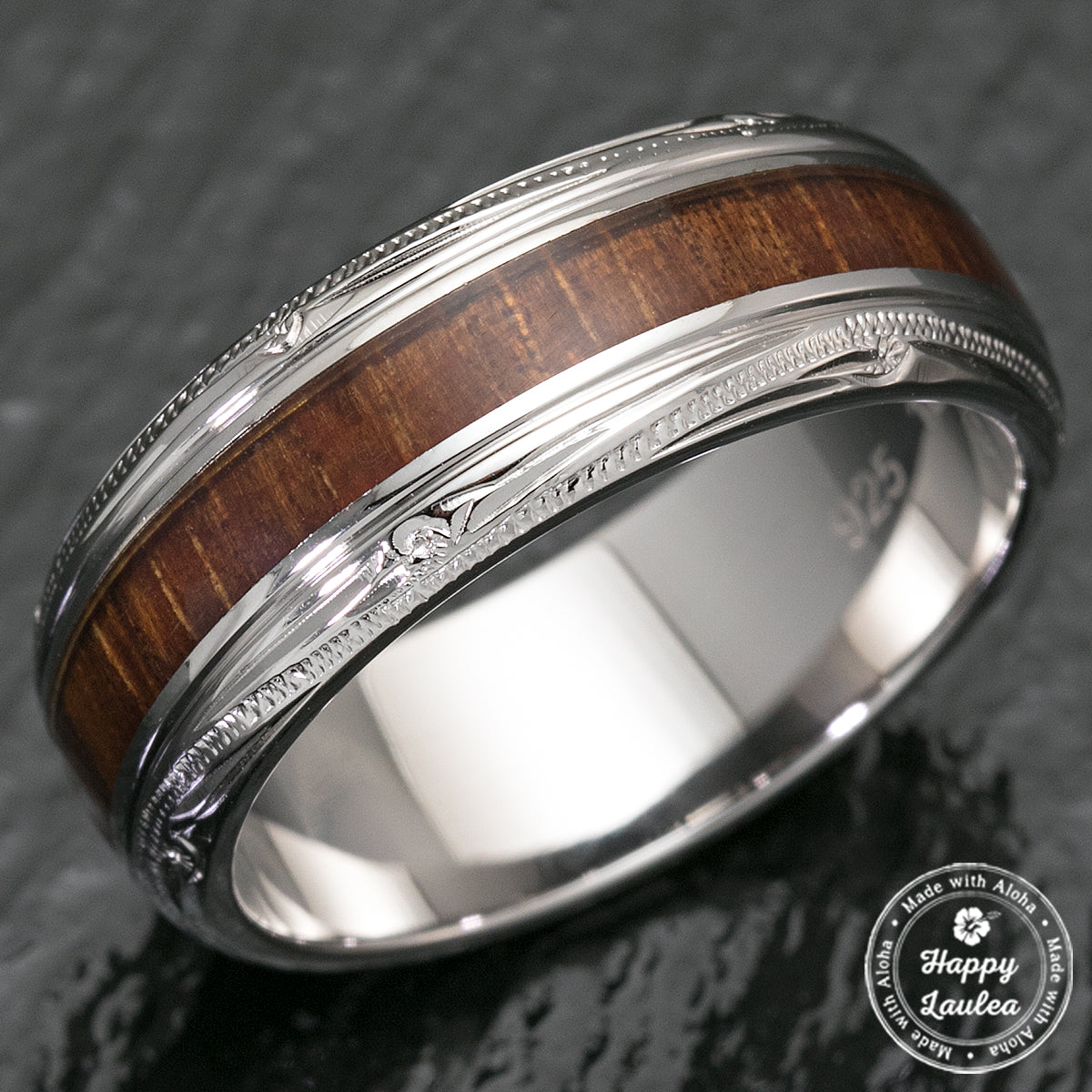 Pair of Platinum & Sterling Silver Koa Wood Hawaiian Jewelry Rings - 3&8mm, Dome Shape
SKU: RS0070
Sale price
$773.00
Regular price
$0.00
(/)
Aloha Fall Sale | Save 10 to 15%
Ring Specifications
Material: 950 Platinum

Width: 3mm

Shape: Barrel

Style: Hand Engraved

Fitment: Standard

Material: 925 Sterling Silver

Width: 8mm

Shape: Dome

Inlay & Style: Hawaiian Koa + Hand Engraved

Fitment: Standard

Product Description
The ring set is beautifully crafted with the Hawaiian koa, which is a exotic wood that originates from the Big Island of Hawai'i. Different parts of the island yields a distinctive hue to the color of the wood. The beautiful colors ranges from yellow or greenish-yellow, through orange, brown, and red, to almost black, and hues of different colors can be derived from a single trunk. In the Hawaiian language "koa" means "warrior" which symbolizes strength, fearlessness and bravery. From the ancient Hawaiian outrigger canoes to the birth of the first ancient surfboards and ukulele, the koa wood deserves more than ever be a widely recognized as a symbol of prestige and coloring.
According to Hawaiian myth, the hula goddess, Laka, is beloved as Hula's guardian diety. Laka, said to possess healing powers, is worshipped as the goddess of "calm and happiness". The hibiscus flower, which Laka loved, is the national symbol of liveliness and happiness. The brilliant hibiscus is used here to symbolize the flowering of love between two people. 
Each piece has been hand engraved, so other rings with the same design will differ in unique ways, making each piece truly one of a kind.
Hawaiian jewelry history dates back to England during the Victorian Era, when Queen Kapiolani and Princess Liliuokalani attended Queen Victoria's Jubilee in 1887. At the Jubilee they were presented with solid gold bracelets, with their names cut out in Old English Lettering filled with black enamel. The Queen and the Princess were so enraptured with their unique gifts that they had similar bracelets made for other Royal members upon their return to Hawaii. 
Today, Hawaiian heirloom jewelry is hand crafted, as it has always been. Although Hawaiian bracelets are the most traditional style of heirloom jewelry, more variations have surfaced over the years. Because of its timeless beauty, all the magic, tradition and pride of the Hawaiian culture becomes yours when you wear our cherished collectibles. It is why the people of Hawaii say, "To own a piece of Hawaiian jewelry is to own a piece of Hawaii." 
A legacy was created and it lives on today, stronger than ever. The tradition has since continued throughout the generations. Hawaiian heirloom jewelry has been given as a gifts for special occasions such as birthdays, graduations and weddings. Heirloom jewelry will last a lifetime, and is often passed from generations. It is considered an honor to receive such a precious, personalized gift.
Platinum is an incredible durable and strong metal. It is heavier than gold and it is not affected by corrosion. Platinum is one of the rarest precious metals on earth. Even gold is more abundant than platinum. To own just one piece of platinum jewelry is to possess an extraordinary treasure. This makes your wedding rings and engagement rings even more special.
★Free Inscription in ring upon purchase
Choose options
Sale price
$773.00
Regular price
$0.00
(/)
Aloha Fall Sale | Save 10 to 15%
View details
Customer Reviews
Write a Review
Ask a Question
07/16/2020
Angela M.

United States
Just what we were hoping for!
This set is absolutely gorgeous. Just what we were looking for!!
Gift of Aloha
Receive a free silicone ring with your a ring purchase!
* Offer while supplies last. Silicone ring is offered for only rings purchases.