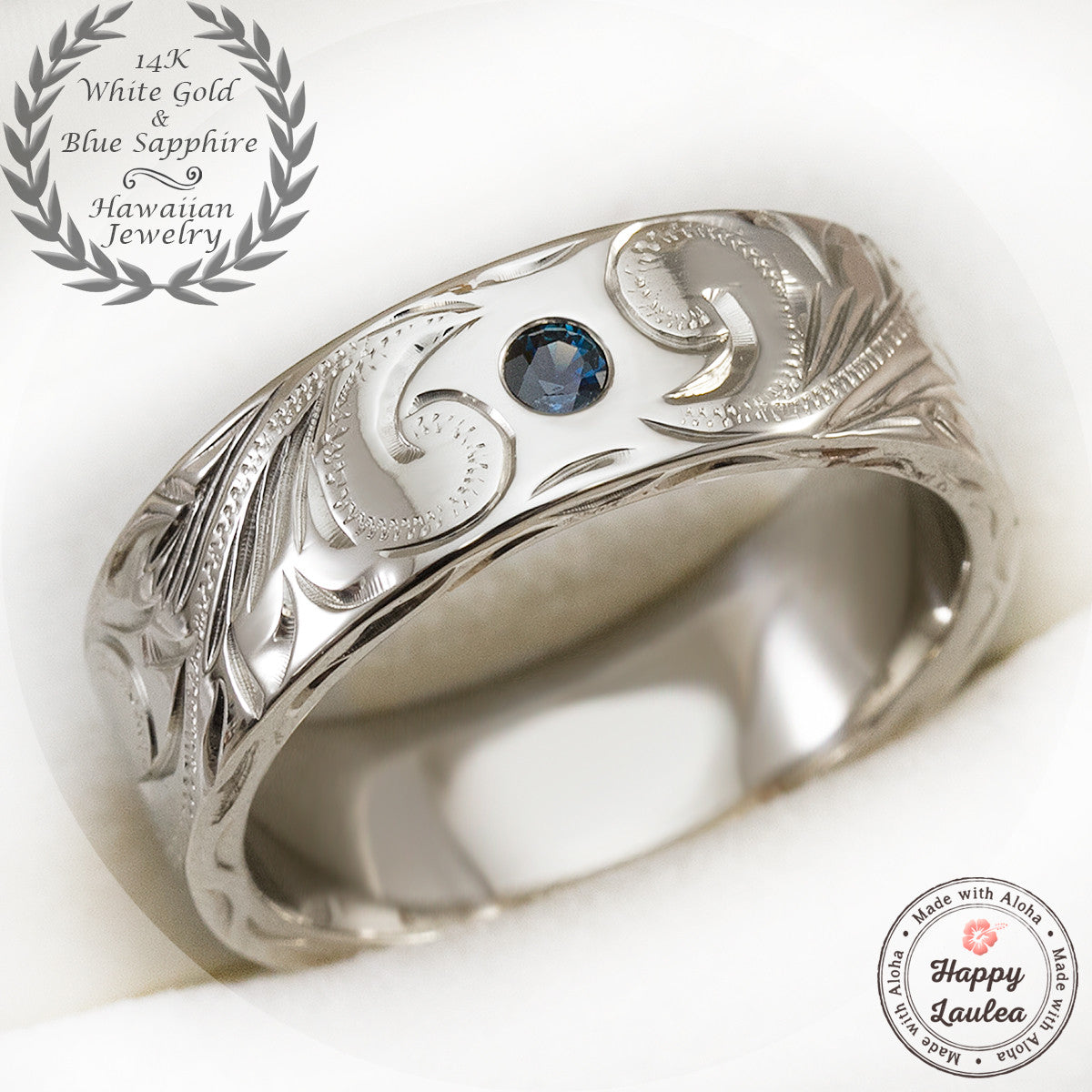 14K White Gold Wedding Ring Hand Engraved Hawaiian Heritage Design with Blue Sapphire Setting - 8x2mm, Flat Shape, Standard Fitment
SKU: HJR0028
Sale price
$900.00
Regular price
(/)
Aloha Fall Sale | Save 10 to 15%
Ring Specifications

Material: 14K Solid Gold
Width: 8mm
Shape: Flat
Fitment: Standard
Product Description
This design symbolizes trust and spreads out into a a sea of waves which call in happiness. The maile leaves are intertwined and is used at all important life events in Hawaii. This design represents a reminder of the feeling of love and the idea that our important memories never fade.
When Captain Cook of England found the Hawaiian Islands, the barrels in his ship were filled with the most delicious food the native Hawaiians had ever seen. From there, the barrel has become a popular motif as a symbol that brings happiness.

The history of Hawaiian jewelry began with a bracelet sent by Queen Victoria to Queen Kapiolani and Princess Liliuokalani in London in 1887.

It was a solid gold bracelet with their names cut out in Old English lettering and filled with black enamel.

The Queen and the Princess were so enraptured with their unique gifts that they had similar bracelets made for other Royal members upon their return to Hawaii.

Today, Hawaiian heirloom jewelry is hand crafted, as it has always been.
Because of its timeless beauty, all the magic, tradition and pride of the Hawaiian culture becomes yours when you wear our cherished collectibles.

Hawaiian heirloom jewelry has been given as a gifts for special occasions such as birthdays, graduations and weddings. Heirloom jewelry will last a lifetime, and is often passed from generations.

Your ring will be shipped directly from Honolulu, Hawaii.
Choose options
Sale price
$900.00
Regular price
(/)
Aloha Fall Sale | Save 10 to 15%
View details
Gift of Aloha
Receive a free silicone ring with your a ring purchase!
* Offer while supplies last. Silicone ring is offered for only rings purchases.