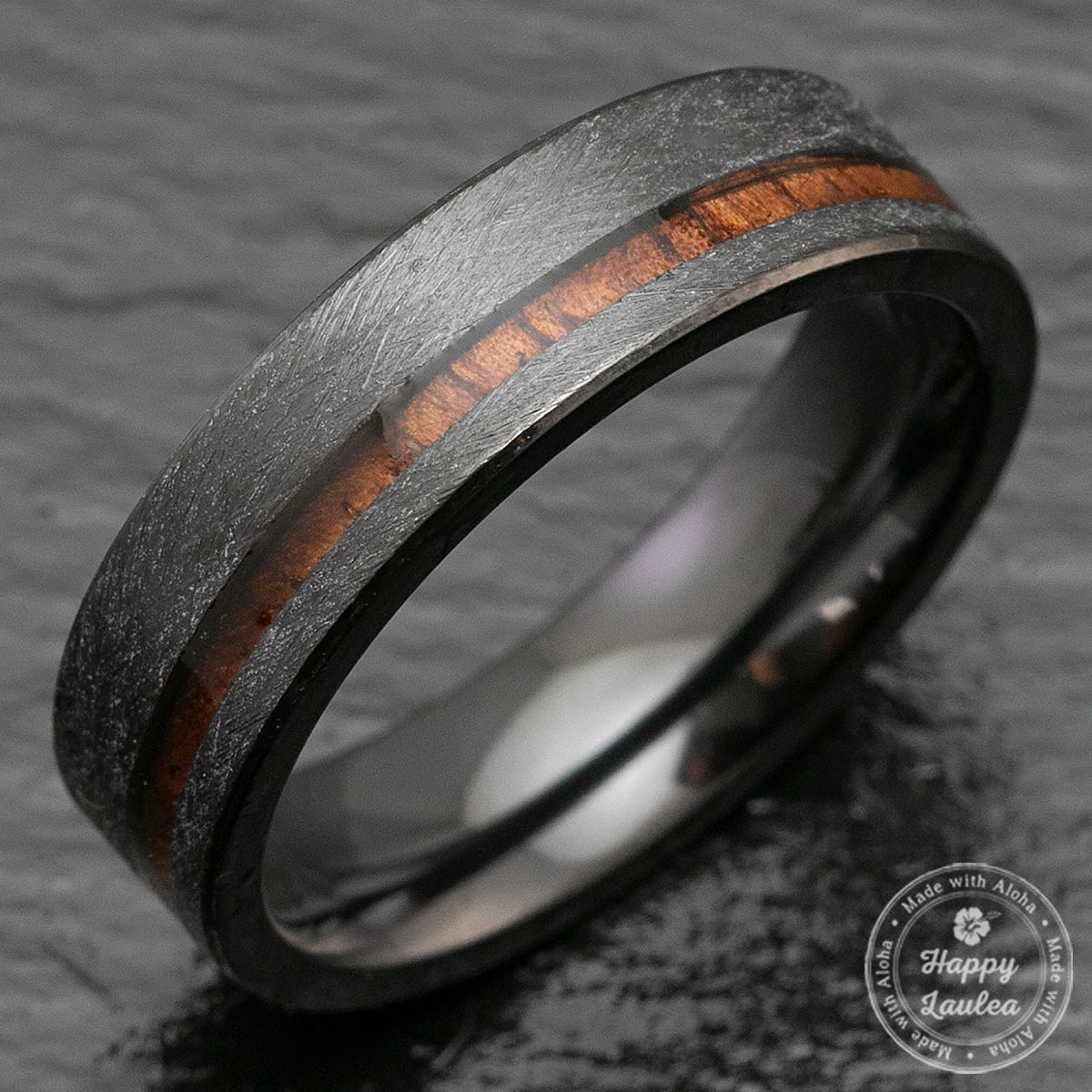 Zirconium vs Titanium rings: Which should you choose?
Should you buy a zirconium or titanium ring? Here we look at the advantages of each metal
Many of our customers are intrigued by the idea of a zirconium or titanium ring as an alternative to the more traditional precious metals typically associated with jewelry, such as silver, gold and platinum. 
Here's our rundown of the zirconium vs titanium or if you prefer, the titanium vs zirconium conundrum! 
Price
The prices of titanium and zirconium rings are broadly similar, with the variations in price depending on a number of factors, such as the number of bands and the type of inlays used, rather than the metal itself. Zirconium and titanium rings are very affordable, resilient, and compare admirably with precious metals.
Durability
Titanium is a lightweight yet extremely hardwearing metal which can be given a number of different finishes to create unique rings, all of which will last a lifetime. Our titanium finishes include hammered, sandblasted, polished, and coined edge, and there are two color options, black and 'silver'. 
Pure titanium has a silvery-grey-white finish. Black titanium is created when it's given a permanent coating of a diamond-like carbon material (DLC), resulting in a black, super-hard, non-scratch finish.
Zirconium is also lightweight and very tough, so much so that it's used in the manufacturing of items such as heat exchangers and catalytic converters! Zirconium has a natural silvery grey color that turns black when it's heated to high temperatures in the jewelry-making process. That black color, a result of oxidation, will never fade and a zirconium ring can be worn every day and will stay in perfect shape. 
Black zirconium vs titanium
We're often asked, which is the best option for a black ring, zirconium or titanium? Ultimately it comes down to personal choice and depends entirely on the priorities of the person choosing the ring. 
Choosing a black zirconium ring is definitely a style statement. If it's a wedding band, it's worth remembering that re-sizing a zirconium ring is a difficult task so tends not to be done. The re-sizing issue also applies to titanium rings. 
Zirconium and titanium are both incredibly hard materials, and in general, jewelry designs tend to be simple and streamlined, without elaborate detail – this applies particularly to zirconium. Our titanium rings generally have more intricate, decorative details.
Hypoallergenic properties
Zirconium and titanium are highly suitable metals for wearers who may have an adverse reaction to other metals, such as silver. Titanium is used by surgeons for implants due to its lightweight and hypoallergenic properties. It's definitely worth thinking about zirconium or titanium if you're worried about your skin reacting badly to a new item of jewelry or if you know you're sensitive to nickel. 
If you have any questions about our zirconium or titanium rings please contact us, or browse our collection pages to find your perfect match.