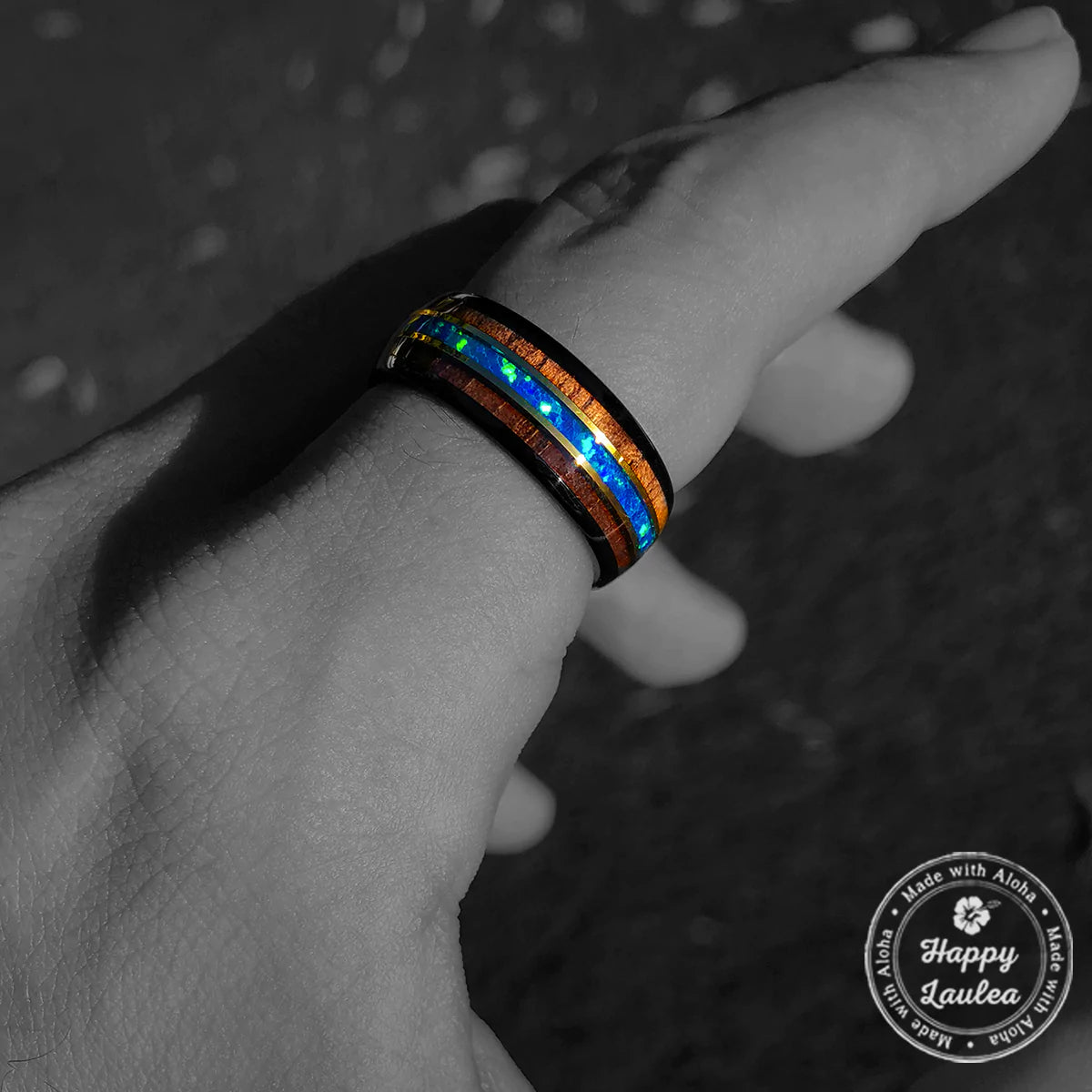 Blue opals; Properties, meaning, and uses
Blue opal is an immediately recognisable gemstone that boasts affordability, beauty, and individuality. 
With a stunning visual depth, which can vary according to the lighting in the room or the strength of the sunshine, opals appear to change color and flicker endlessly when viewed from different angles. In fact, the name 'opal' comes from the Greek word 'opallios' which means change of color.
The intense colors found in blue opals specifically are caused by tiny specks of copper within the stone. 
Blue opals in jewelry making
Blue opals are used in jewelry making in a number of interesting ways. 
For example, they can be used as individual gemstones that are cut, shaped and polished as a whole stone cut from the original source rock. This style is called cabochon.  
Other effective ways of using opals include the inlay, laminate or composite methods, where a thin 'slice' of opal is mounted on a base layer. This is a way of maintaining consistency of color throughout an individual piece of jewelry as each layer will have very similar patterning and colorisation. 
Blue opal & Hawaiian Koa wood inlay ring
Another way of incorporating an opal into a piece of jewelry is described as the 'doublet' method, where a cut opal is mounted on a base layer – often black jade, obsidian or ironstone – which is chosen because it enhances the color, clarity and appearance of the opal. 
There's also the 'triplet' method, where a doublet opal is topped with a clear transparent layer, which can be quartz, and which can be highly polished and protects the opal beneath. 
Opals are semi-precious gemstones and as such are considered to be less hardwearing than precious stones such as diamonds or emeralds. Consequently, skilled and experienced jewelry makers take that into consideration when working with opals. They will always ensure that the design will allow the opal to be firmly embraced all around so that it is protected as well as held firmly and securely. 
Blue opal healing properties
Blue opal jewelry is widely thought to have spiritual significance. The stone is associated with healing and peacefulness, hence its popularity for wedding bands and as a meaningful gift for special occasions, for both men and women. 
Our blue opal inlay rings feature opal stones – the stars of the show – combined thoughtfully with a variety of precious metals and natural materials. Our rings can combine Koa wood, antler and abalone shell with silver, tungsten carbide, titanium, zirconium and gold - the options are endless!
Opal colors aren't just confined to blue; our range includes white, fire,  green, lavender and azure opals too.
Blue opal inlay jewelry is straightforward to care for. There's no need to use harsh chemicals, simply clean with warm soapy water (such as dishwashing liquid), use a very soft brush to loosen any grime, then dry and polish with a soft cloth. 
If you have any questions about our rings please contact us, or browse our opal inlay ring collection pages to find your perfect ring today.